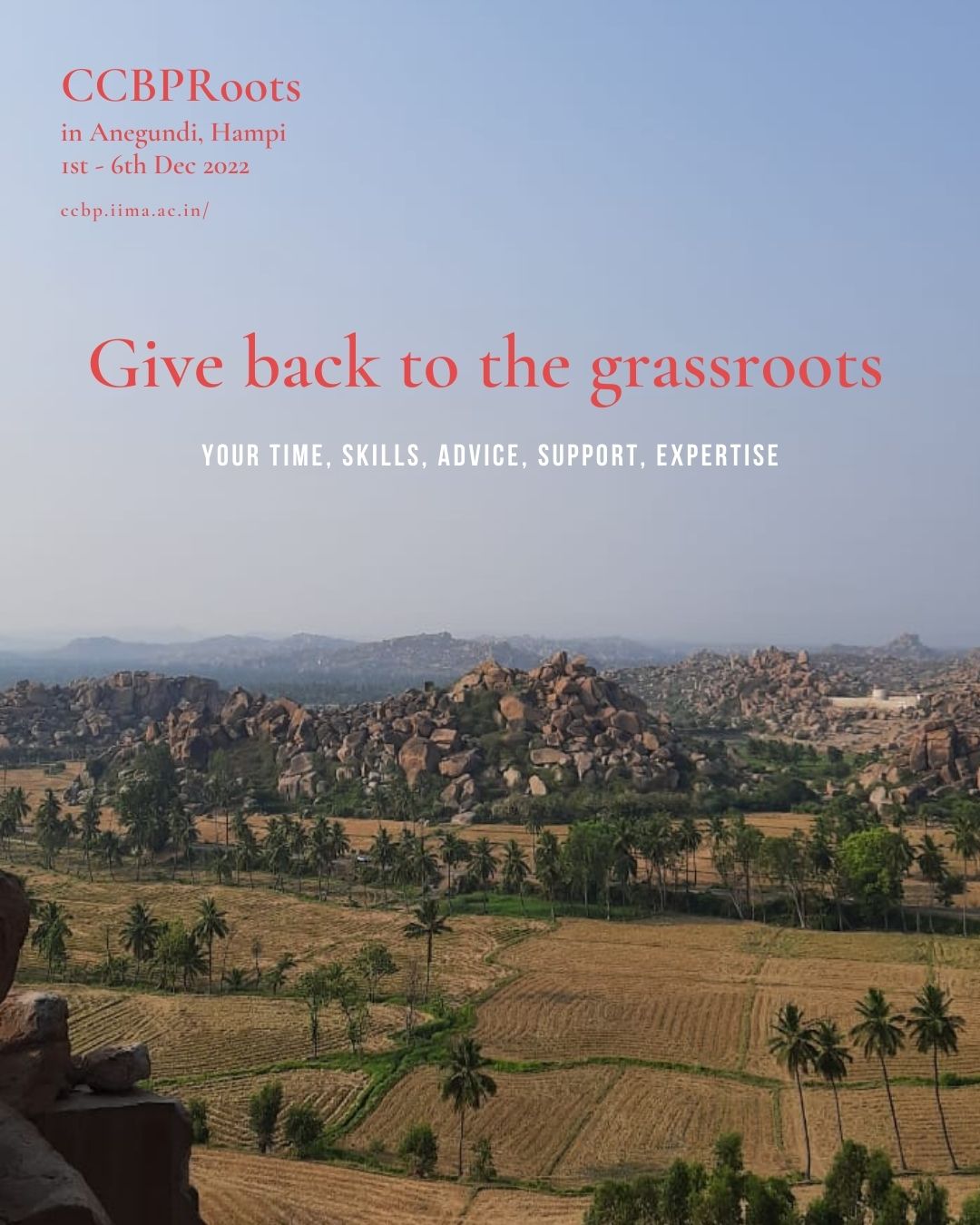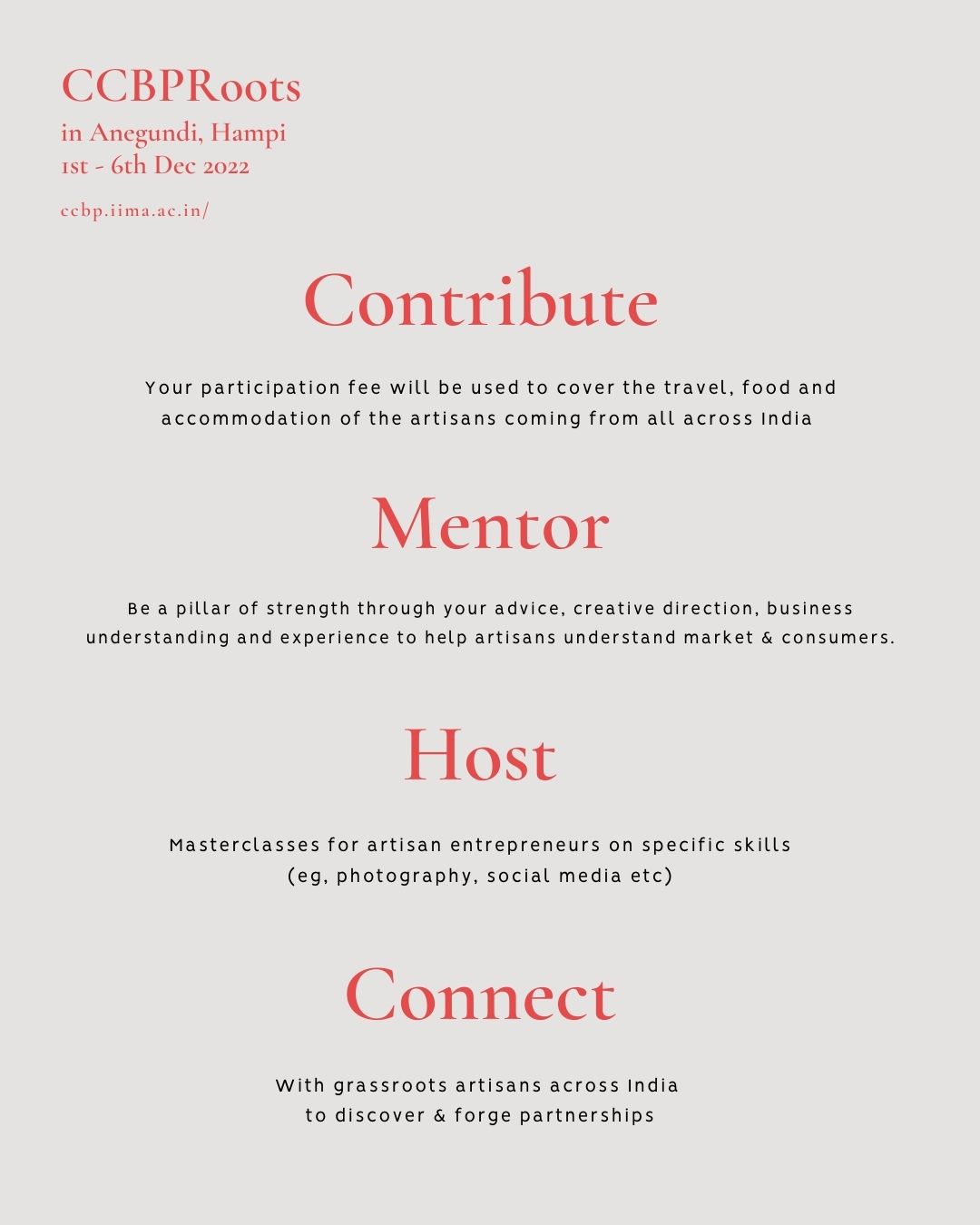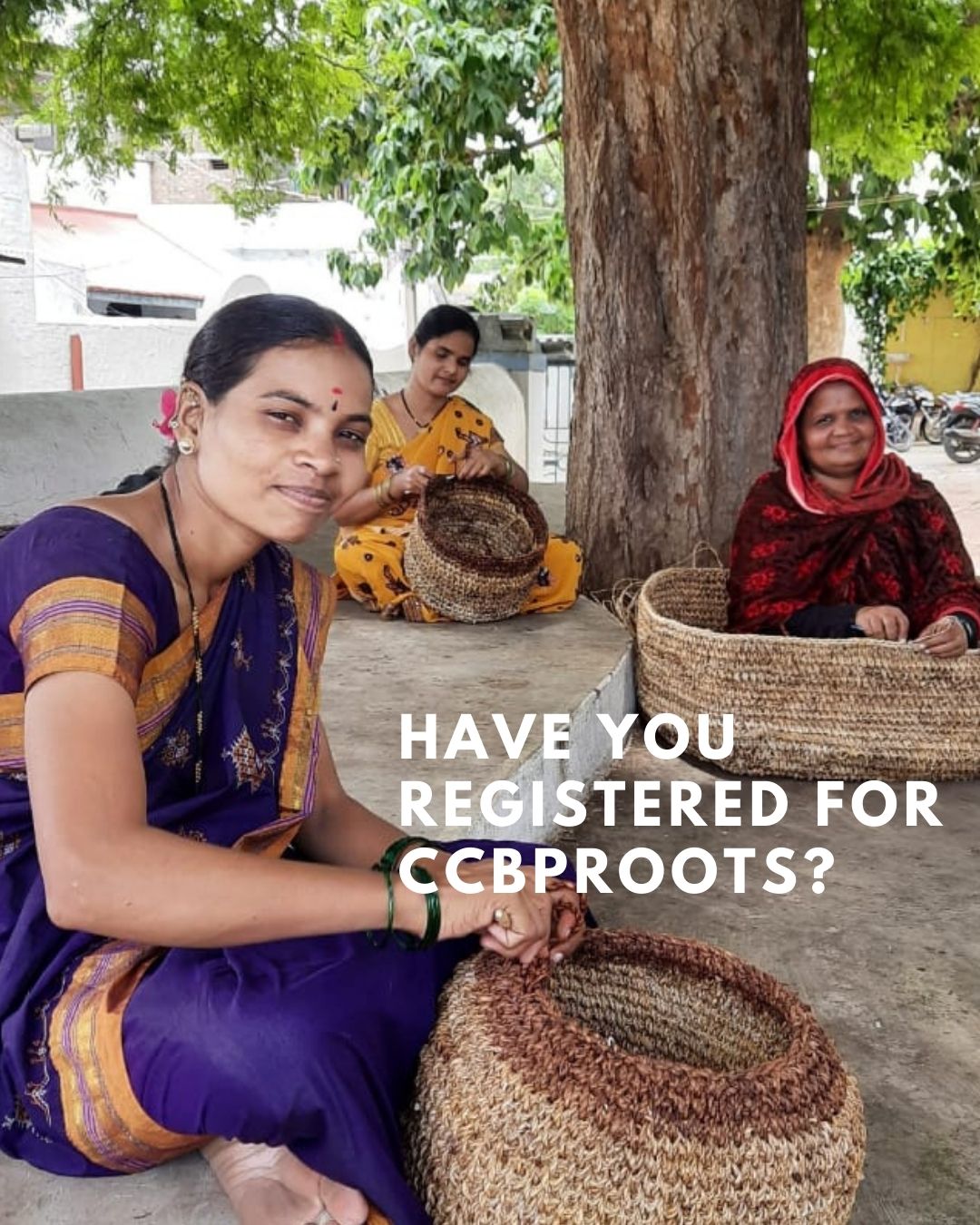 The Creative and Cultural Businesses Programme (CCBP) at IIM Ahmedabad is pleased to announce its new initiative aimed at providing a platform for CCBP alumni and other creative & cultural entrepreneurs across India to discover and connect with artisanal communities.
What is it?
CCBP Roots will be a series of event-led partnerships to connect with the grassroots by creating a learning support system that will help creative & cultural entrepreneurs harness the potential of India's rich culture, arts & crafts and build a thriving entrepreneurial ecosystem.
The main focus of CCBP Roots will be to create opportunities in the form of mentorship, collaboration and market access for local artisans. CCBP Roots will facilitate these opportunities through the CCBP ecosystem (faculty, mentors, alumni and well-wishers).
CCBP Roots at Anegundi, Hampi (1st – 6th December, 2022)
We are thrilled to kickstart CCBP Roots with our first event at Red Lilies, Water Birds in partnership with The Registry of Sarees and The Kishkinda Trust, which will be attended by eminent and pioneering people from the fields of design, architecture, policy, art, history, crafts, business and conservation.
Red Lilies, Water Birds is a month-long exhibition from 14th November 2022 through 6th December 2022, in Anegundi, Hampi. The exhibition programme will provide the stimulus for performances, talks and workshops with artisans and designers which will be held in parallel. Red Lilies, Water Birds – The Saree in Nine Stories, presents textiles from the collection of The Registry of Sarees, Bangalore. Curated by Mayank Mansingh Kaul, and designed by Reha Sodhi, the exhibition will be spread across several heritage homes around the village of Anegundi.
The National Federation of Handlooms and Handicrafts (NFHH) will facilitate artisan participation from different craft clusters across India. These artisans participating in the exhibition will be from highly skilled diverse practices that range from performing arts, clay & stone pottery, hospitality, tourism, embroidery forms, handloom textiles of natural fibres, natural dyeing, hand sewing, puppetry, leather works, kansa, tableware, home textile, hand knitting (wool/ cotton), woodwork and fine miniature painting.
Red Lilies, Water Birds Exhibition
Red Lilies, Water Birds will open with a Preview on 12-13 November and close on 7-8 December, remaining on view from 14 November through 6 December, daily, except Tuesdays. The exhibition will feature a selection of 108 sarees and draped garments – narrated through 9 themes – which have been collected by The Registry of Sarees over the last 5 years. They represent a period of almost a century, from the late 19th to the early 20th, and comprise textiles from some of the most prominent handloom centers of India, including Kanchipuram, Venkatgiri, Chanderi, Paithan, Patan, Varanasi, Murshidabad and Sambalpur.
The present exhibition in Anegundi with the village's heritage homes as venues, furthers the organization's mandate to present curatorial initiatives in South India, and that of the curator's to continuously explore new formats of engagement and viewer participation.
Towards this, the exhibition will form the nucleus of a series of events including CCBP Roots – a series of talks, workshops and mentorship modules will initiate relevant conversations around craft and entrepreneurship. Aimed at future collaborations, artisans from the National Federation of Handloom and Handicrafts have been invited to converse and find affinities with creative cultural entrepreneurs from the Institute's alumni network.
How to Participate:
From entrepreneurs to professionals to creatives, an opportunity for everyone to participate and create an impact at the grassroots with artisan communities.
The engagement entails a participation fee of Rs 10,000/- to be paid directly to the event organisers. This participation fee is exclusive of the travel and stay expenses of the participating entrepreneurs. The aforesaid fee will be used to cover the travel, food and accommodation of the artisan-partner(s) who will be coming from all across India. A community kitchen serving all meals will be open for all participants. All registered participants will receive travel and stay recommendations to plan their visit to Anegundi
Confirm your participation with simple two steps:
Fill out our registration form: https://bit.ly/3sJkile
Payment of participation fee: https://bit.ly/3TrxKVX
For further information on CCBP Roots, please contact Amrita Haldipur on amritah@iima.ac.in