When we started this programme, we strongly felt that traditional business-school courses did not address aspects that are key to creative and/or cultural businesses. The products and services in this space must have a strong resonance with their audience at an emotional level, in order for them to succeed, and therefore being able to understand and connect certain aspects like luxury and modern aesthetics to the business model is critical.
OUR OBJECTIVES ARE
To encourage, prepare and train students in their domain knowledge.
To adapt modern aesthetics, management skills, production methods to grass root levels in order to catalyze rural artisanal transformation and enhance more equitable value distribution across the value chain.
To create relevance and market value for creative and cultural products.
To drive brand-led business investments in the sector.
To foster 'The Golden Thread' alignment of brand values to business processes and value chain management.
To accelerate building and scaling of creative ventures.
PEDAGOGY
This 15 day programme will be delivered through 3 sets of in-class interactions on campus (camps) across 6 months, with research, assignments and online interaction between camps. It will involve (i) three academic camps, (ii) presentations and discussions led by faculty and experts (brand owners, craftsmen, retailers, and consultants), (iii) project critiques, (iv) mentor engagement (v) webinars, (vi) brainstorm and network with contemporary thought leaders in the design space and (vii) platform to present business ideas to industry experts and stakeholders.

In each classroom session, participants are expected to analyze, discuss, and suggest a suitable course of action for the identified dimensions of the business case. Equally important will be the task of understanding concepts and ideas from the readings and articles given to participants.

The participants will be required to build on their respective business cases and prepare for the final showcase to a panel of industry leaders.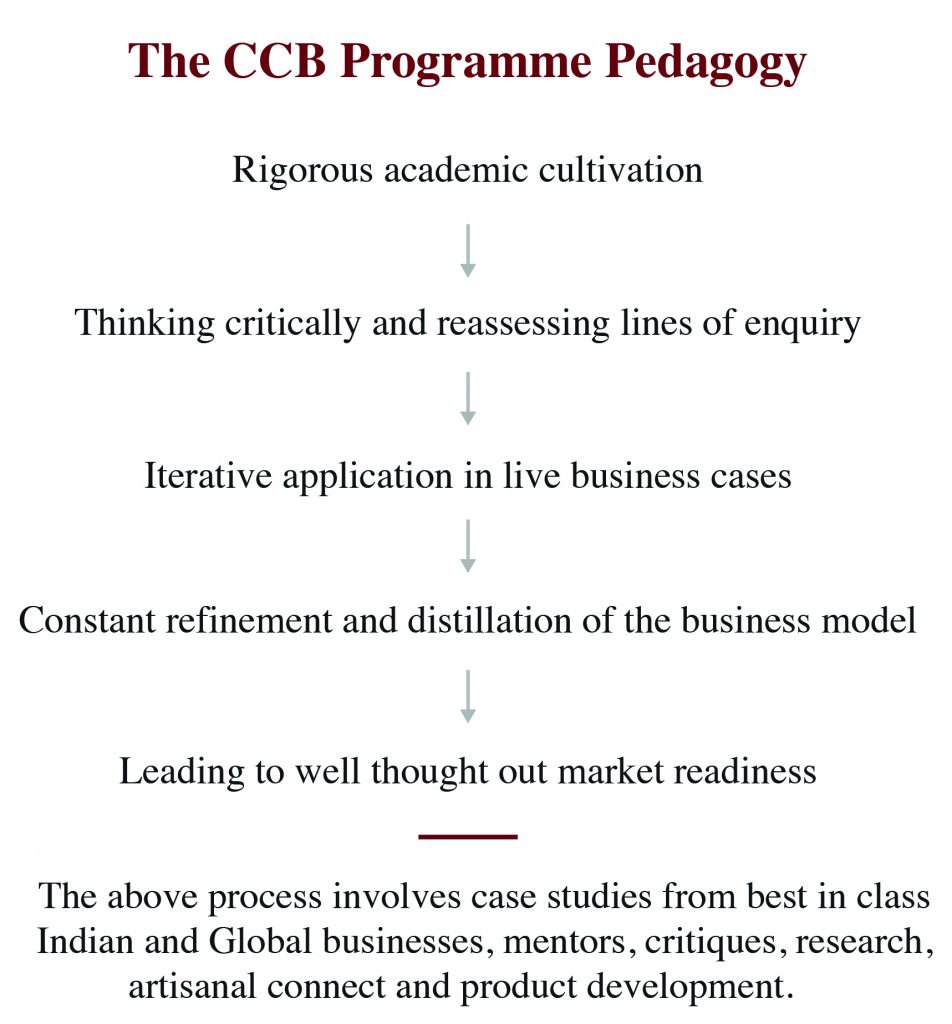 MODULES AND CONTENTS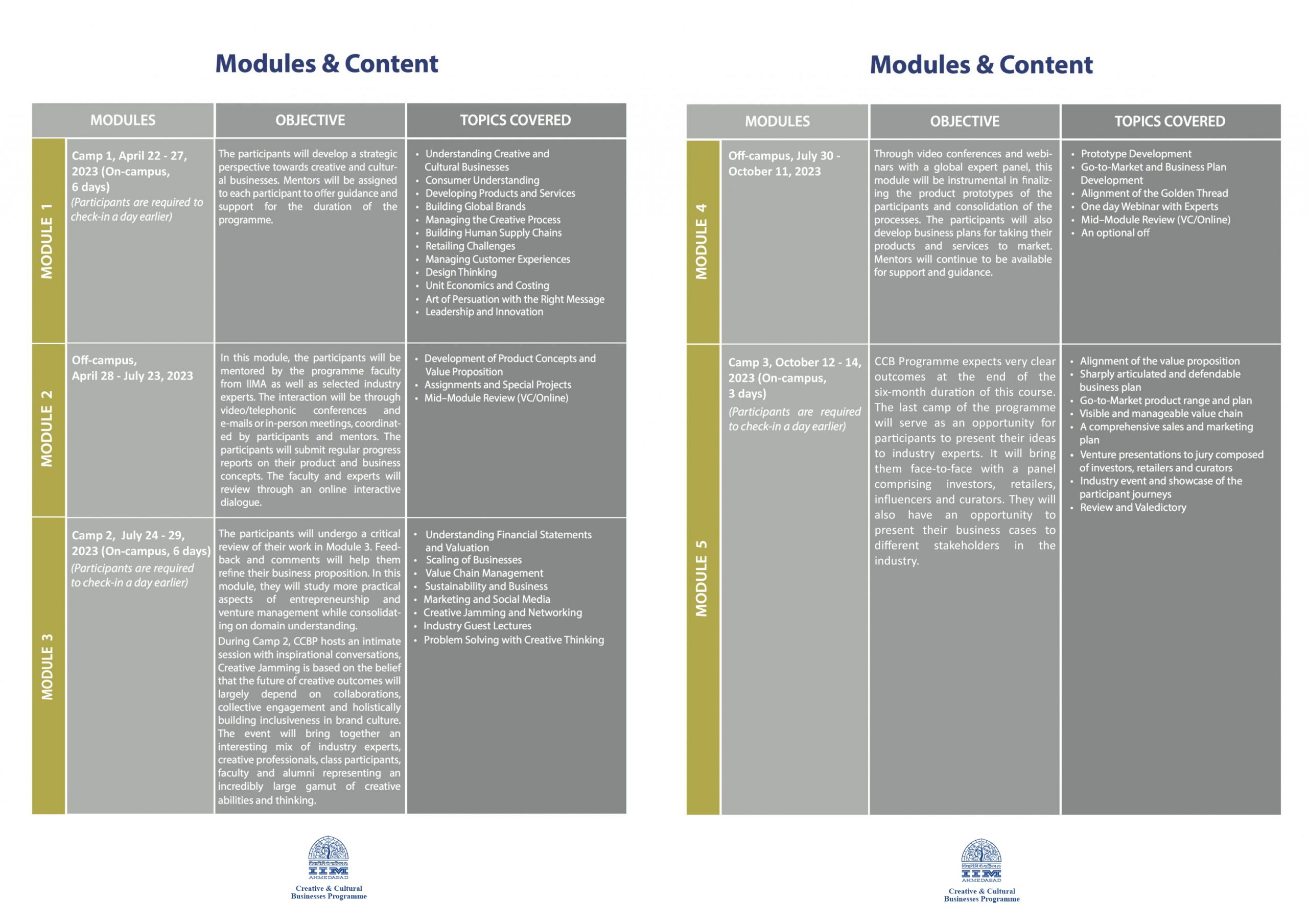 THE INSTITUTE
INDIAN INSTITUTE OF MANAGEMENT AHMEDABAD (IIMA)
IIMA was set up by the Government of India in collaboration with the Government of Gujarat and Indian industry as an autonomous institution in 1961. The Institute provides education, training, consulting and research facilities in management.
Major Programmes Offered by IIMA
• Two-Year Post Graduate Programme in Management (MBA)
• Two-Year Post Graduate Programme in Food and Agri-business Management (MBA- FABM)
• Ph.D. Programme in Management
• One-Year Full Time Post Graduate Programme in Management for Executives (MBA- PGPX)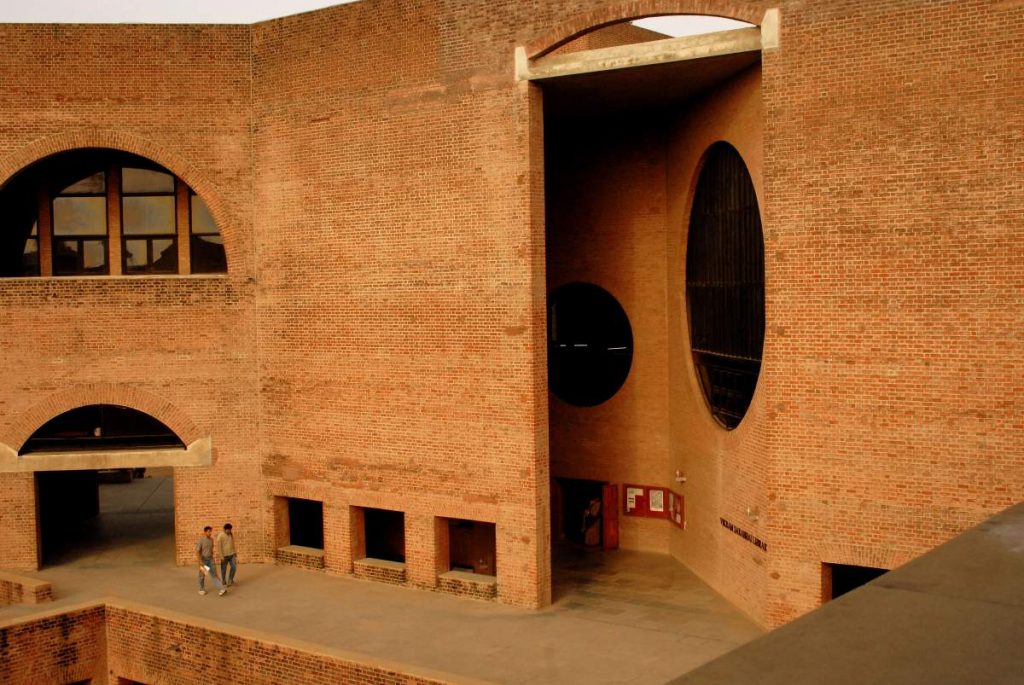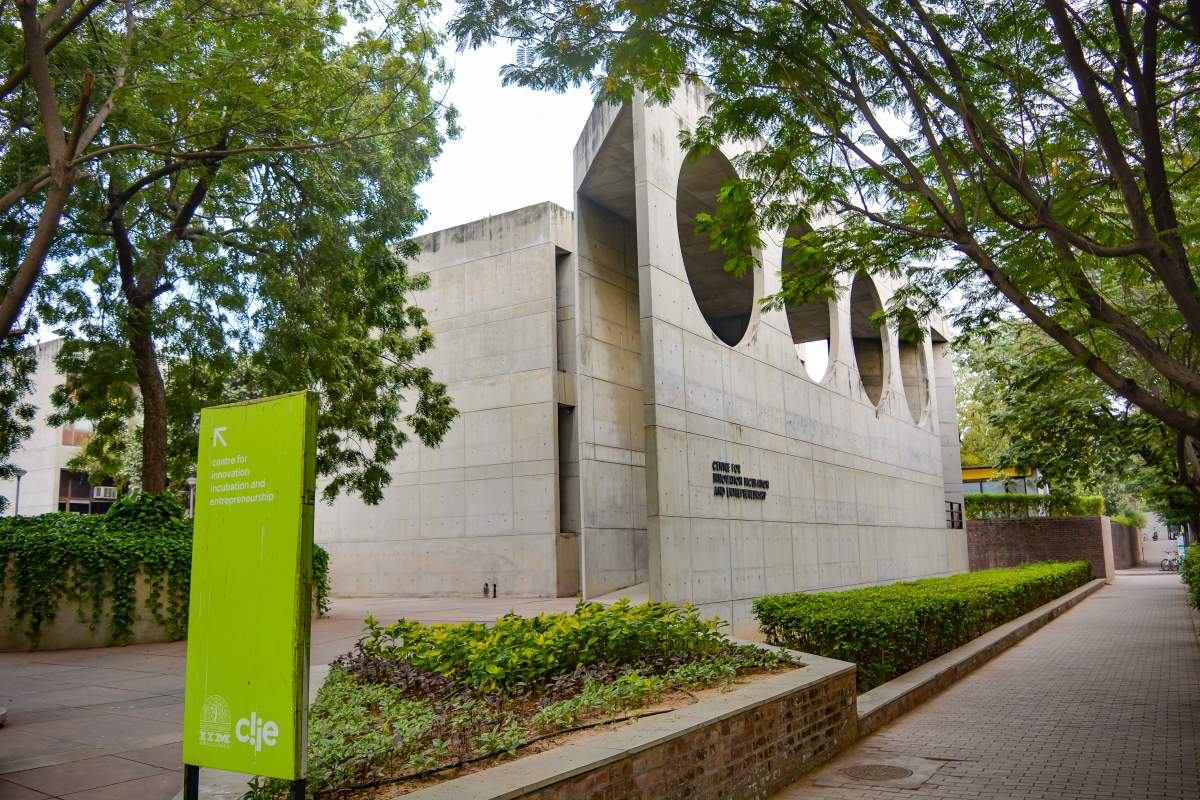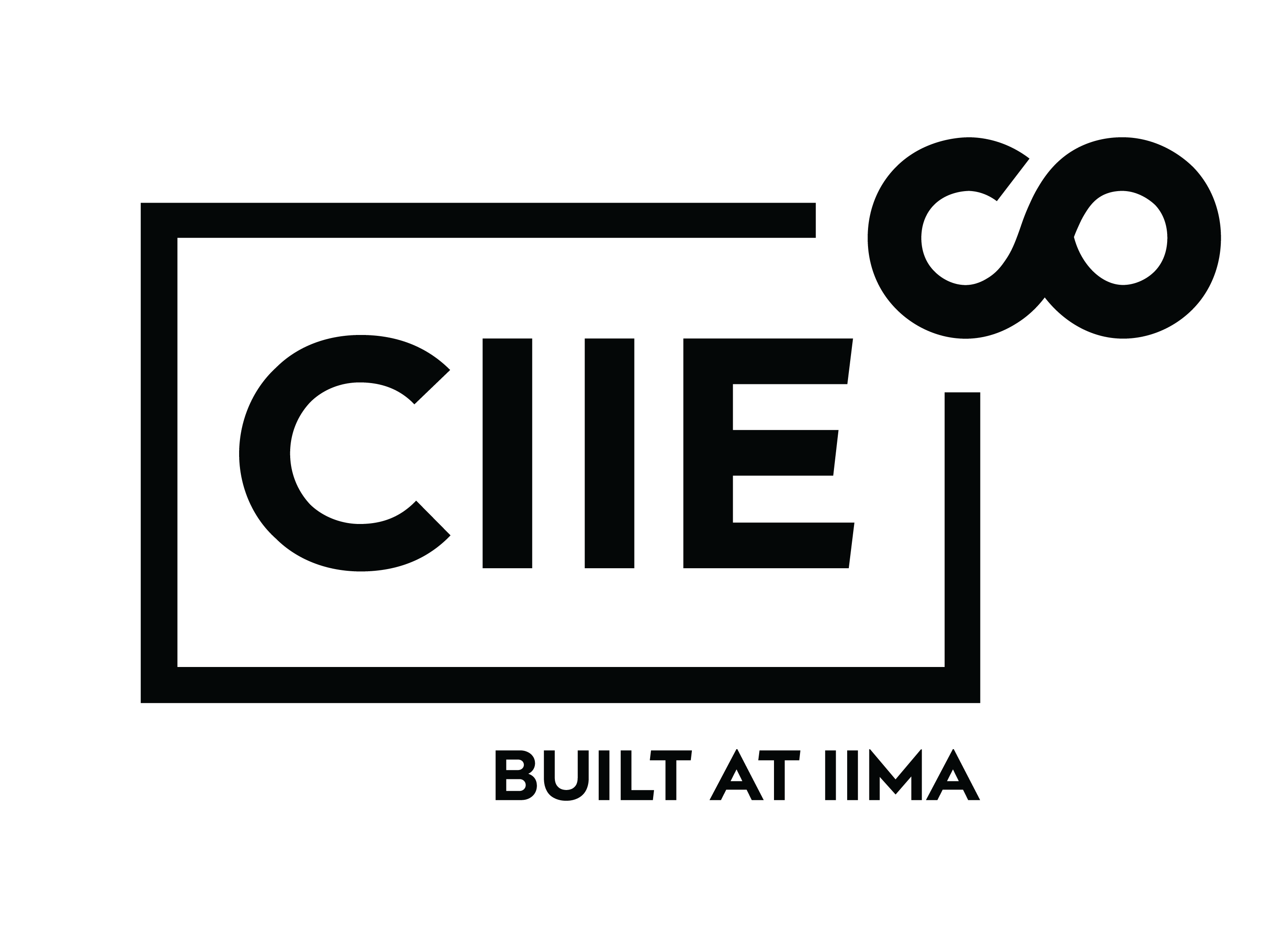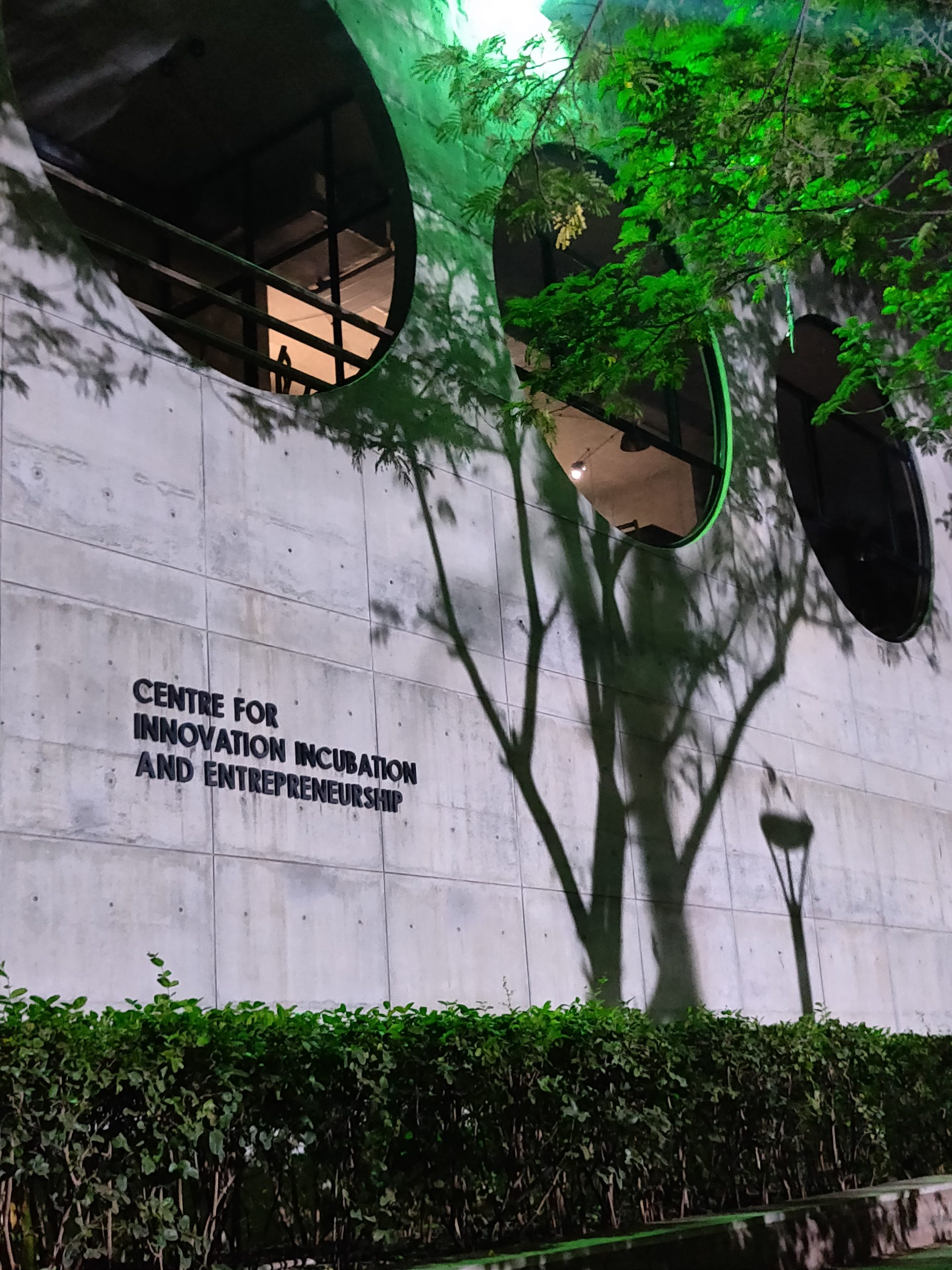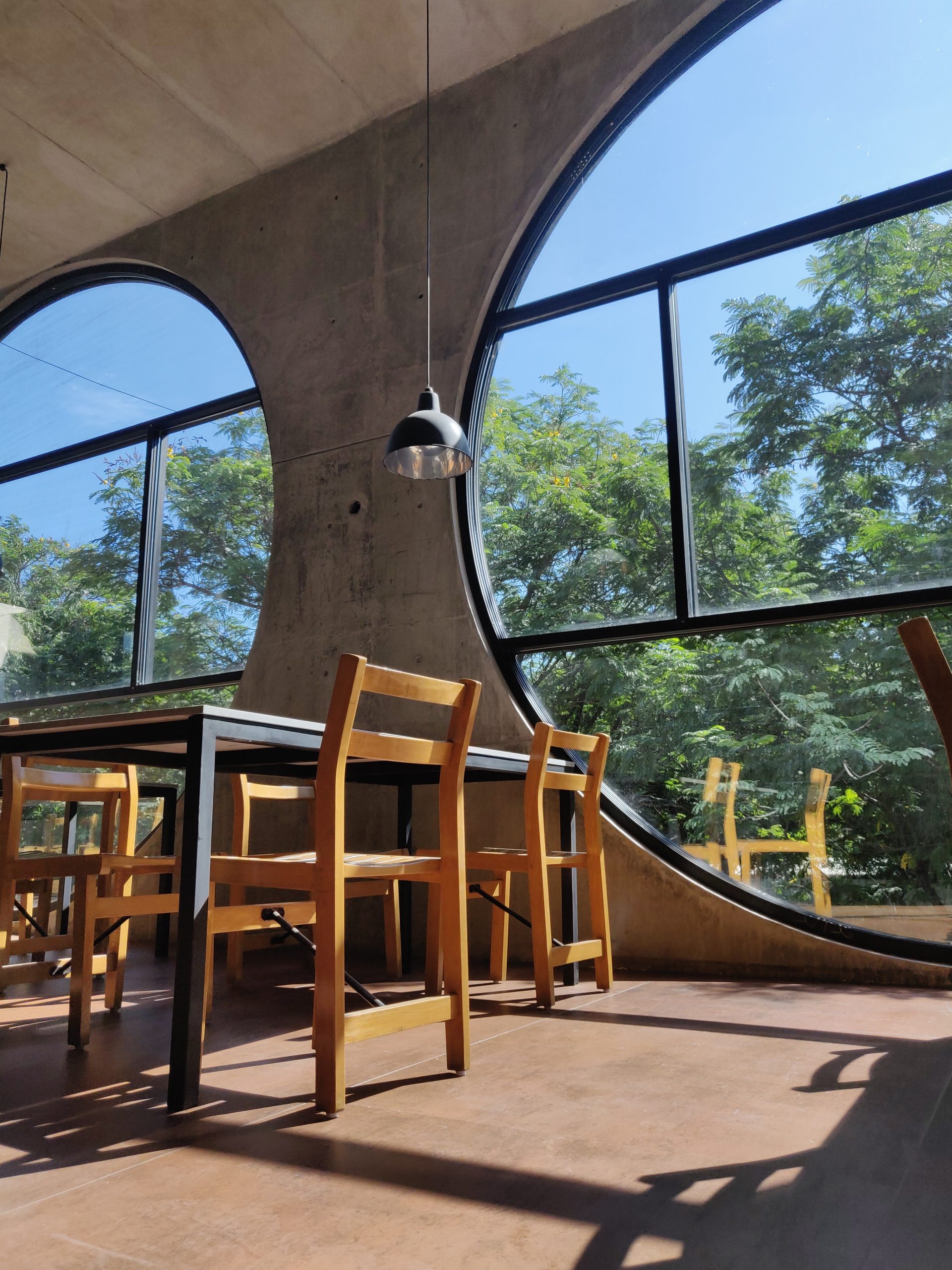 Centre for Innovation Incubation and Entrepreneurship Continuum (CIIE.CO), the technology business incubator at IIM Ahmedabad, helps entrepreneurs turn ideas into viable businesses In partnership with their mentors, corporates, development agencies, IIMA community and investors, CIIE cultivates a rare breed of entrepreneurs by incubating, accelerating, mentoring and funding innovative start-ups. CIIE has, over the years, played a multi-dimensional role in the entrepreneurial landscape of India. Their deep understanding of the evolving gaps, needs, and opportunities in the markets and the entrepreneurial ecosystem has enabled it to design initiatives that have attracted and supported the best entrepreneurs in various sectors.